11 Days grand Morocco tours from Tangier to Marrakech Overview
This 11 Days grand Morocco tours from Tangier to Marrakech is for you if you fly to Tangier and want to visit the famous city of Tangier… We can see a wonderful scene out and about: Jbala Mountains, Berber towns, local people little business sectors arranged in the street, Dams…In Chefchaouen, the roads and the majority of the structures in the old area of town (medina) are painted a most splendid sky blue. During the strolling visit, we have the feeling that nothing has changed in Chefchaouen for quite a long time. It resembles a live exhibition hall or like seeing a narrative about Moroccan history.
Drive to visit the Roman remains of volubilis and Meknes. Proceed to Fes the old middle age city in Morocco. Drive southwards to Ifrane and Azrou by the Middle Atlas Mountains. Go on through the Ziz valley , Erfoud, Rissani and Merzouga. Take the camel journeying to a Berber camp in Erg Chebbi Sand Dunes.
 
Invigorate at Todra gorges the most lovely regular sight in the south of Morocco.  The course through Dades Valley passes by the roses valley and Skoura town before Ouarzazat, 'the Hollywood of Africa'. The renowned Ait Ben Haddou kasbah. Through the lofty Tizi n' tichka pass (2260m) over the High Atlas Mountains to show up to Marrakech the main fascination in Morocco for a city visit.
Good to know about 11 Days grand Morocco tours from Tangier to Marrakech
Note: Price on Request of 11 Days grand Morocco tours from Tangier to Marrakech
>> The price of 11 Days grand Morocco tours from Tangier to Marrakech will depend on the numbers, the more people in your party the lower the cost per person.
>> All accommodations will be private, and vehicles will only be shared, if applicable.
>> We are not responsible for personal injury or loss of your property. You must take reasonable care of your belongings at all times.
Itinerary 11 days grand tour of tangier to discover Morocco
Day 1: Tanger -> Tetouan -> Rif Mountains -> Chefchaouen
First day of 11 Days grand Morocco tours from Tangier to Marrakech: Start your Morocco travel experience in Tangier the Mediterranean passage to Africa your Moroccan organization visits guide will welcome you at Tangier port/air terminal on appearance. Take a Tangier visit through the city's chief sights prior to withdrawing for Morocco's Rif Mountains and the enchanting town of Chefchaouen. Short-term in Chefchaouen riad.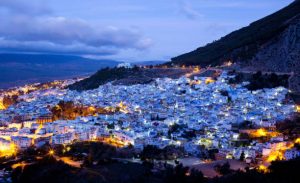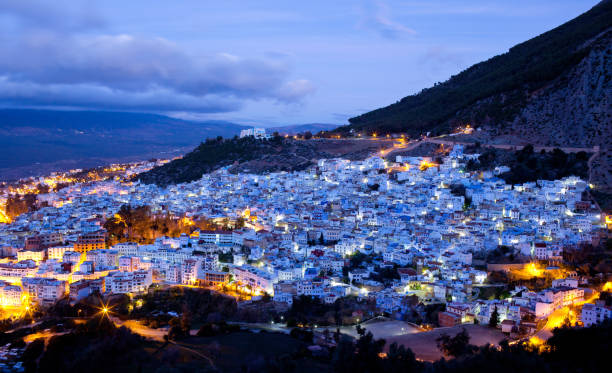 Day 2: Chefchaouen -> Volubilis -> Meknes -> Fes
Second day of 11 Days grand Morocco tours from Tangier to Marrakech: After breakfast, trip to Fes. Going through Morocco's Rif Mountains you venture south to the old Roman town Volubilis where you will investigate the Roman destroys and wonder about the Roman mosaics. A brief distance away lays the UNESCO world legacy seventeenth century supreme city of Meknes in the old Meknes medina you will see the renowned huge door of Bab el Mansour, the fundamental access to the second Alaouite king, Mouly Ismail's seventeenth century city and the Agdal Basin, your Morocco make a trip experience proceeds to Fez and enter the old medina to have your first experience of the lovely riads in Morocco. Short-term in Fez riad.
Day 3: Fes-Touring Accompanied By An Official Nearby Guide
Third day of 11 Days grand Morocco tours from Tangier to Marrakech: Entire day Fez city visit, one of Morocco's most seasoned supreme urban communities, with your master neighborhood Fez guide, your legacy visit through Fez visits the UNESCO assigned world legacy old walled medina verifiable landmarks (counting Madrasa Bou Inania, the Kairouine Mosque and Mihrab), marketplaces and Souks, (for example, the souk Ain Allou (calfskin), the souk Attarine (flavors), Souk au Henne (henna and kohl)), Fes el Jdid, the outside of Dar el Makhzen (Royal Palace) including the tremendous Merenid entryway of Bab Dekakene previously the primary entry of the regal castle, the Mellah (old Moroccan Jewish legacy quarter) and late sixteenth century Borj Nort post (outside). Get back to your Fez riad. Short-term in Fez riad.
Day 4: Fes -> Ifrane -> Ziz Valley -> Erfoud -> Merzouga
 Fourth day of 11 Days grand Morocco tours from Tangier to Marrakech: Your visit through Morocco ventures by means of Ifrane, Azrou, Midelt and Erfoud south to Merzouga. Your course crosses Morocco's Atlas Mountains prior to plummeting into the Moroccan desert where you follow the Ziz River the lovely Ziz Gorge, a desert spring with tremendous date palm forests, through the desert town of Erfoud to Merzouga, a little desert Berber town arranged on the edge of Morocco's fantastic Sahara Desert sand hills known as Erg Chebbi, Overnight in Merzouga Hotel.
Day 5: Desert -> Nomadic families -> Khamlia village -> Camel trek & camp
Fifth day of 11 Days grand Morocco tours from Tangier to Marrakech: Investigate Morocco's desert visiting the Merzouga desert spring region where you can see the desert Berber in their striking indigo blue gandoras and turbans the remaining parts of old ksars (Berber fortresses) the eminent Morocco fossil fields and dark Moroccan town of Khamlea. Unwind at your Hotel in the early evening prior to leaving on your desert camel visit into the Erg Chebbi sand rises. Driven by your neighborhood Berber guide you watch the dusk over the enormous sand ridges and camp for the time being under the stars in Berber wanderer tents at a desert garden in the core of the sand hills,
Day 6: Merzouga -> Erfoud -> Berber Vilages -> Todra Gorges -> Dades Valley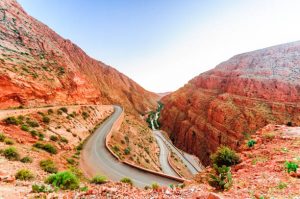 Sixth day of 11 Days grand Morocco tours from Tangier to Marrakech: Your ascent ahead of schedule to watch the dawn over the desert, After breakfast you return by camel to your Merzouga Hotel and invigorate prior to leaving for the picturesque Todra Gorge. Proceed with your Morocco desert visit going through the High Atlas Mountain Berber town of Boumalne Dades. also, going along the Road of a Thousand Kasbahs… You will feel little as huge dividers of the faint and brilliant stone apex on one or the other side of you… Walk up the gorge and value the opinion of being circled by such quality. See how neighborhood individuals carry on with their lives as you go over specific shepherds or advance towards an unassuming local area on your walk. You will stay the night in Dades Valley near the Gorges.
Day 7: Dades Valley -> Skoura Valley-> Ait-Ben Haddou -> Marrakech
Siventh day of 11 Days grand Morocco tours from Tangier to Marrakech: After breakfast, we'll pass through the Dades Valley towards Kalaat Mgouna and Ouarzazate. The course through Dades Valley is the method of the thousand Kasbahs-giving various chances to take a portion of your best visual shots of the excursion. We'll stop at Kalaat Mgouna, "the rose city", to buy the rosewater, which will make your cloth smell lovely quite a while after your excursion is finished. Proceed to Marrakech through the Ait Ben Haddou Kasbah. Worked by Et Thami El Glaoui, one of the last Berber tribal leaders during the eighteenth hundred years, presently the Kasbah is a place of numerous Glaoui individuals.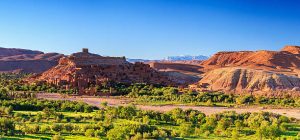 Your Morocco travel adventure takes you across the High Atlas Mountains via the Tizi n'Tichka pass (2260m) as you travel to Marrakech, the old imperial city known as the Jewel of the south and a highlight of holidays in Morocco. Arriving in Marrakech , escape the bustie of the old medina as you enter the peace of your riad in Marrakech. Overnight in Marrakech riad.
Day 8: Marrakech Sightseeing Guided By An Official Local Guide
Eighth day of 11 Days grand Morocco tours from Tangier to Marrakech: Breakfast, you will enjoy the guided city voyage through Marrakech. The morning starts with a visit to the radiant Koutoubia Mosque as the milestone of Marrakech which has motivated different structures, for example, the Giralda of Seville and the Hassan Tower of Rabat. Your next stop is the Bahia Palace and the Saadian Tombs. The Saadian burial chambers in Marrakech go once again from the hour of the king Ahmad al-Mansur. The burial chambers were found in 1917 and were reestablished by the Beaux-expressions administration the tomb involves the interments of around sixty individuals from the Saadian Dynasty that started from the valley of the Draa River. 
 After the mid-day break, You Continue to the world-popular Jemaa el Fna-Square. which houses a variety of food, snake charmers, nearby performers, and soothsayers. There's no place on Earth like the Jemaa el Fna, the square at the core of old Marrakesh. You will likewise stroll through the souks and view several crafted works. A night with breakfast at the Riad.
Day 9: Marrakech -> Essaouira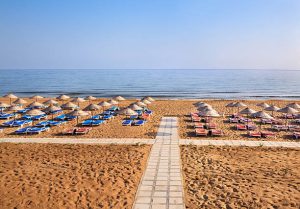 Ninth day of 11 Days grand Morocco tours from Tangier to Marrakech: We will start in the initial segment of the day branching out from Marrakech to Essaouira, which is approx 2 and a half hour adventure. There we will enter the wooden works of art show lobby, arranged in an old illustrious home. There is a watchman tower and the harbor's Skala. From this harbor, we will look onto the coast, the isles, and the city. Marina's doorway is used to mix the city and the harbor, and there are deals to buy new fish. The restricted avenues of the medina show a huge load of specialists working with pearls and wood… They are presented underneath the strongholds of the city… furthermore, the dinner will be there as well.
Day 10: Eassaouira -> Oualidia -> El Jadida -> Casablanca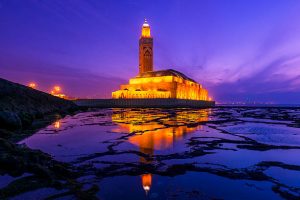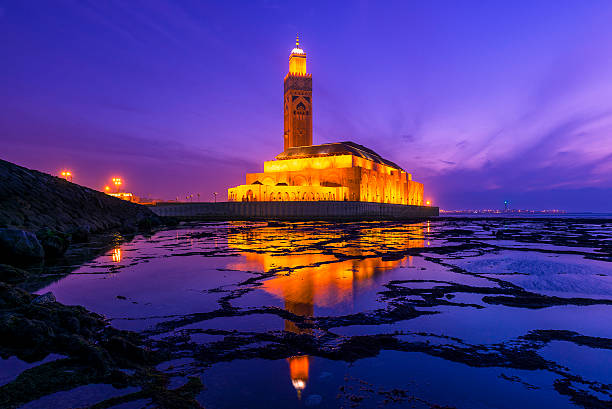 Tenth day of 11 Days grand Morocco tours from Tangier to Marrakech: After breakfast at Hotel, we will start our departure from Essaouira to Casablanca through the lovely coastline road, ending in Oualidia for fish lunch in a diner with sea see Continue to El Jadida, visiting in the city integrates the acclaimed post, That worked under the Portuguese occupation in the sixteenth hundred years. Appearance to Casablanca late evening. If the time licenses us we will go see the Hassan II Mosque, the greatest one beyond Mecca and experience the ocean front Cornish sea side. Short-term at lodging.
Day 11 : Rabat -> Assilah -> Tangier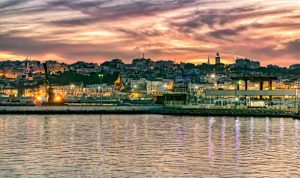 Eleventh day of 11 Days grand Morocco tours from Tangier to Marrakech: Drive north along Morocco's Atlantic coast to the lovely minimal seaside town of Asilah on the manner in which we will visit Hassan 2 the second most noteworthy mosque in Morocco particularly its district, directly on the most raised reason for the cruel inlet over the sea, this is one of the amazing accomplishments of morocco plan, by then to Place Mohamed V were the must old government structures. Before we take you to our capital Rabat there, you'll see the Hassan Tower worked in the twelfth 100 years. By then proceed to Asilah with its Portuguese pioneer strongholds. Follow the Mediterranean coast back to Tangier. Short-term in Tangier riad.
Important information of 11 days grand tour from Tangier to Marrakech via Fes desert tour
Pick up you from your accommodation in Tangier
Private Transport by an A/C vehicle
Fuel included
Private English-Speaking driver throughout your Journey
Half-board accommodations in selected hotels or Raids (dinners and breakfasts are included)
You can stop everywhere to take photos
Camel Trekking & Night in Desert
Camel Per person
Drop off service at your accommodation in Tangier
Tips and gratuities
Lunches and Drinks
Air fare travel
Anything not mentioned in the program
NOTE: 11 days grand tour from Tangier via Fes desert tour if doesn't coordinate what you're searching for, get in touch with us We can give tweaked to your tours in Morocco as indicated by your span and your inclinations of remain. You can accompany your family, family members, companions, every one of them. Simply let us know, Our Team in Tours Into Morocco is at your administration to respond to any inquiries, visits nitty-gritty, prompt about the best occasions and places. Regardless of whether you're pondering, we're here to help.
How to book this 11 Days grand Morocco tours from Tangier to Marrakech?
>> To book this 11 Days grand Morocco tours from Tangier to Marrakech in Morocco you should send us an email or contact us via WatsApp, name us your needs eg tell us what is your destination in Morocco? How many adults and children? What is your residence number in Morocco? Which city to arrive in Morocco? We will answer your questions free of charge in the shortest possible time, please feel free to contact us!
Similar tours into Morocco
Most Popular Tours From Tangier Into Morocco
Most Popular Tours From Marrakech Into Morocco
Most Popular Tours From Casablanca Into Morocco
Most Popular Tours From Fez Into Morocco
Joint our popular day trips Morocco from Marrakech or Fes desert
Joint our popular Morocco Camel Trek in Merzouga desert
Tours Into Morocco offers day tours, desert trips fastidiously intended to permit you to take advantage of this phenomenal Moroccan objective. You will observer the astonishing excellence and antiquated history of the country through our own visits. Our visits can expand long periods of mystical experience from the antiquated majestic city of Marrakesh to the social focus of Fes.