Merzouga Camp Africa is your unique accommodation in a desert luxury camp in Morocco. It does not ask you much, but to relax and reflect on the colors of the best Merzouga desert camp.
Located in the quiet and unspoiled sands of Erg Chebbi, this beautiful Sahara desert luxury camp park welcomes you for an unforgettable holiday in the Morocco desert camp. It's the perfect destination for vacationers, individuals, and small groups tour looking for unparalleled privacy and solitude. Our private deluxe resort offers 10 spacious luxury cabins with comfortable and luxurious comfort. Private gardens are designed for those who appreciate the peace that silence can provide. Take a day or two or more and enjoy the luxurious atmosphere, meditate or walk in one of the most exciting Morocco Sahara deserts in the world.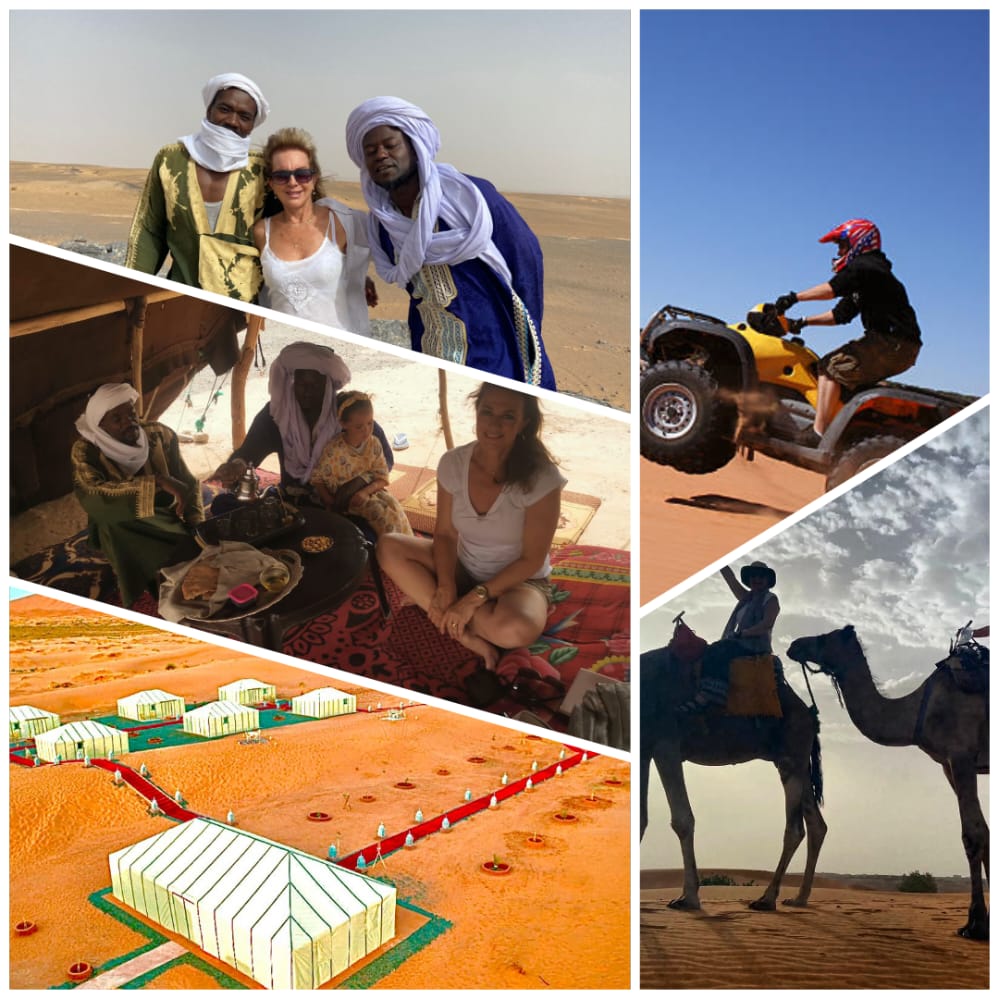 A luxury resort in the Merzouga desert of Erg-Chebbi, which is an hour and a half from Erfoud. Enjoy your special night under the stars in this beautiful oasis in the high-rise tented Berber camp. Experience an overnight camel trek Morocco in Morocco at sunset and sunrise from the top of the dunes. Your desert experience includes an authentic nomadic lifestyle dinner under the stars and breakfast in the morning.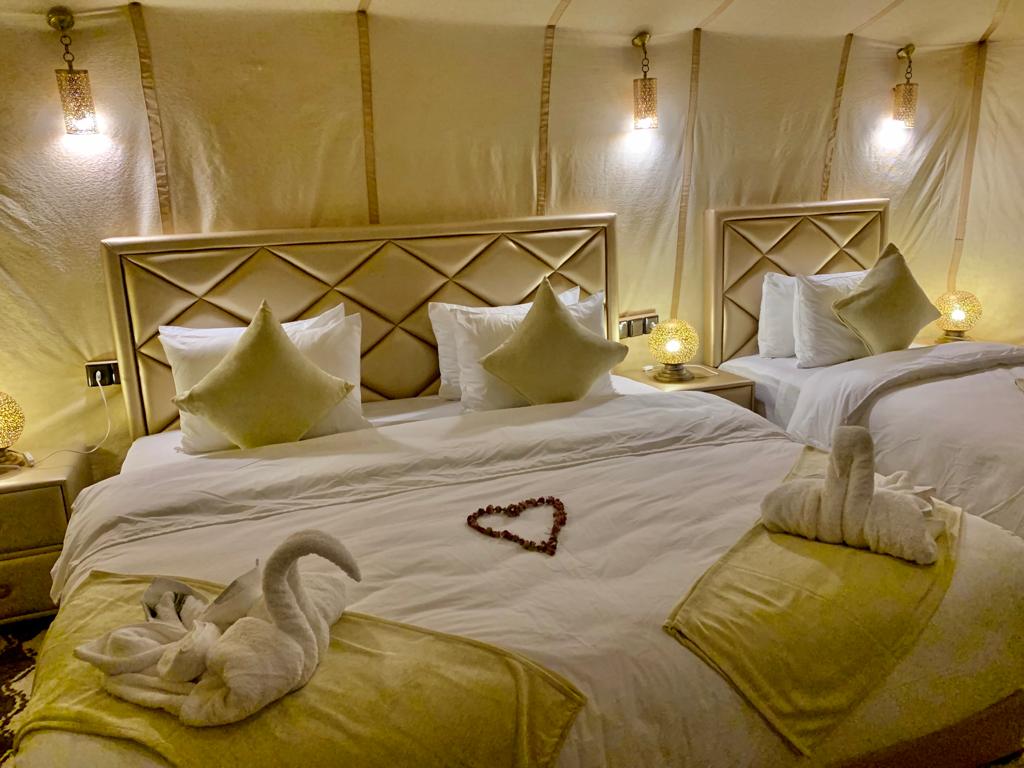 Overview of Merzouga Camp Africa
Nestled in the middle of the huge dunes of the Erg Chebi desert, Merzouga camp Africa park also offers an incredible adventure experience nomadic stylelife. It is unique because of the Berber tent, which are Luxury camp or camel huts that are often used by nomads.
10 Most Excellent Places To Enjoy Desert Merzouga Camp Africa
What comes to mind when you hear the word Morocco, Merzouga, the Sahara? I am sure you automatically think of 5-star luxury real estate, Camel trek, tours into Morocco, overnight camel trips to Merzouga, Gnaoua music, Nomadic lifestyle, sports cars. However, have you tried camping in the desert in Merzouga? Well, we have curated a list full of the most exclusive and secluded desert camping sites in Merzouga, for you to visit on your next trip to Merzouga.
Travel to the dunes of Erg Chebbi in the Merzouga desert
Moroccan legend says that the sand dunes of Erg Chebbi were sent by God as punishment for removing an exhausted traveler from the Moroccan Sahara. Moroccans believe that the sand dunes have built up outside of Merzouga to teach them a lesson so that they will never refuse to help weary travelers again.
The Erg Chebbi sand dunes in Merzouga are undisputedly one of the greatest tourist attractions in Morocco. These gigantic hills with a fine sand line the Algerian border and everyone should see them.
Visit Erg Chebbi sand dunes of Merzouga
And overnight in the desert Merzouga Camp Africa on a special Morocco trip. Reptiles mostly live in the desert and can be spotted through their tracks. The night offers an opportunity to catch glimpses of jerboa, desert hedgehog, desert fox, or fennec. Desert vegetation is a bit rare because rainfall in this area is very short and uncommon. In the spring, if rain appears, pink flowers and purple statice can be found.  
Whether you choose to go on camel rides
Or explore on foot with a Berber tour guide, you will have an equal opportunity to witness desert flora and fauna. Today, accessing the Erg Chebbi in Merzouga is a breeze compared to previous decades. There are several options for getting you there. The easiest way is to use a 4*4 Cruiser but for those who have time to explore the desert, camel trekking is also popular.  
The best way to travel is with a Driver and Travel Exploration guide that speaks English, French, Spanish, Italian, Arabic and Berber. If you choose to do so, you will be in expert hands and have the opportunity to tour the dunes and the surrounding areas. When traveling on a camel in Morocco, you must allow at least one week. Merzouga Camp Africa
The weather in the Desert " Merzouga Camp Africa"is seasonal and sometimes quite calm
However, when sandstorms arrive with the winds, they make a very loud hissing sound that may surprise you. If you have long hair, it is recommended that it is fixed firmly from the back. During your desert travels, ask your guide to help you purchase one of the flowing turbans of the dark blue worn by the Tuaregs, the nomadic Bedouins who are the main inhabitants of the desert interior, and the Berber men in the desert. It keeps your head cool in the summer and warm in the winter.
If you are walking across sand dunes
Turn around and look back at the visible footprints you leave behind. Unless this is your first dune bashing, you will never see anything interesting in your life. If you are traveling with others, look ahead to see where they are, as they may look like ants from afar.
A journey through the dunes of Erg Chebbi is a surreal and mystical experience that will likely make you feel like you are in the middle of a Star Wars movie.
Glancing around from every angle
All he would be able to see was a sea of candy. The Erg Chebbi sand dunes extend to the Algerian border and offer one of the most authentic desert experiences. For a special Sahara experience with a Moroccan journey, local guide to exploring, head to Merzouga out of season during January and February – at this time, the desert will practically own yours. Stay away during the summer months as it is extremely hot and can be fatal for some.
The Dunes of Erg Chebbi are known for their height and large size. They can rise to a hundred and fifty meters in height in some places, twenty-two kilometers, and five kilometers.
The Dunes of Erg Chebbi are located at a distance of forty kilometers from Erfoud, near the town of Merzouga.  
Historically, access to the dunes was a hardship for Moroccans and other merchants passing through Erg Chebbi, as they took the desert caravan route to transport salt, gold, slaves, and spices to Timbuktu. To reach near the Erg Chebbi sand dunes, travelers had to pass through some of the most shallow and ancient areas imaginable. If they travel in the summer, the sun burns on their skin and clothes.
Gallery luxury desert Merzouga camp Africa
Merzouga thing to do => Merzouga Camp Africa Luxury
A Tours Into Morocco Exclusive, Available only as Part of Your Private excursion
Our Sahara Merzouga Camp Africa is located southeast of Merzouga village. Tours Into Morocco's Merzouga Camp Africa is located just an hour's drive from Erfoud, in the heart of the magnificent desert dunes, far from the areas visited by tourists. The luxury camp consists of 1 large bedroom tent and a large restaurant tent. 
The bedroom tents provide comfort in a hotel room and can comfortably accommodate a king size bed, a spacious double bed, or three spacious single beds. En suite bathroom facilities include a hot shower, toilet, and sink. The restaurant tent has five tables, and traditional meals prepared by our chef are served by candlelight.
The private luxury Merzouga Camp Africa at Erg Chebbi in Merzouga will be the highlight of your Moroccan experience. What could be more than a night under the stars after a sunset camel ride and dinner by the campfire while a local folkloric band is having fun? Our scattered camp is much more private and clannish than the larger group camps in Erg Chebbi.
Running water is available, and electricity is provided by a small generator installed some distance from the camp. The camp is completely covered with Berber colorful carpets and pillows. Reaching our camp via a short camel ride. A special welcome is organized for our guests with welcome drinks and a local folk band.
Our luxury camp is a perilous adventure not to be missed if you want to get the right feel for the nomadic and Moroccan countryside!
Included: Merzouga Camp Africa
Camel safari excursions, camel trekking with a local guide, overnight stay in a luxury tent, 1001 barbarian nights three course dinner with drinks and breakfast at sunrise, and Berber – Moroccan music.
Welcome with Moroccan mint tea, dates, and almonds
Fire – Different Musical Groups
Dinner under a large Berber tent
Barbarian soups
Roast (roast beef) or tagine
Candy
YOUR QUESTIONS ANSWERED _ Merzouga Camp Africa
Camps are not ostentatious. Merzouga Camp Africa Luxury to us means taking care of your immediate needs: providing a good night's sleep; Make sure to have a cold drink on a hot day, great food, and be sure to enjoy an authentic desert experience.
Many people like to relax in the desert. We provide you with many relaxation areas where you can read your book, play a game or just daydream while relaxing in a hammock. If you are concerned, there are a lot of activities, you can find some of them in detail on our activities page.
Our aim is not to replicate the 5-star hotel experience in town. We believe the level of luxury we offer is environmentally friendly. It is after all a desert experience, an adventure, and not just another luxury experience in a different city!
Our most popular excursion is the 4-day return trip from Marrakech with 1 night in a guest house en route, 2 nights at the campsite Merzouga Camp Africa, and back to Marrakech in one day. If you have more time available, the 5-day trip with 3 nights in the camp is popular, and for those with less time, the 3-day return trip with 2 nights in the campground.
There is now increased interest in our 5-day trip from Marrakesh to Fez (or vice versa) including 2 nights in the desert. One of the unique aspects of this trip is the fact that the road north of the Todra Gorge is really off the beaten track, and showcases some of the best countrysides in Morocco.
Questions and answered about Merzouga Camp Africa
We might be desert connoisseurs, but we also know a lot about other parts of Morocco too! So we can organize trips that not only include accommodation in Marrakech but also trip to other parts of Morocco as well. The site has package templates of the best of Morocco. But these are just templates and we can customize your trip according to your desires. Merzouga Camp Africa
Questions and answered about Merzouga Camp Africa
Any journey in 4*4 leaves an environmental footprint. We have a responsibility to balance this by making sure we do our part for the environment. So:
Electricity is provided by solar energy only.
There is no air conditioner. Other than the fact that we believe environmental isolation detracts from the authenticity of the experience, its operation is fuel-hungry and noisy.
Each tent has an en suite bathroom with a wash bucket. While we offer an ample amount of hot and cold water, washing the bucket uses a small portion of the shower water which is a rich and unforgettable experience!
Send an email to [email protected], and we'll reply as quickly as possible, and certainly within 1 hour. It depends where I am! Please note that we are not associated with any internet booking agencies, such as booking.com, Expedia, etc.
Joint our popular Morocco Camel Trek in Merzouga desert
Most Popular Tours From Marrakech Into Morocco
Most Popular Tours From Casablanca Into Morocco
Most Popular Tours From Fez Into Morocco
Most Popular Tours From Tangier Into Morocco
Tours Into Morocco offers day tours, desert trips fastidiously intended to permit you to take advantage of this phenomenal Moroccan objective. You will observer the astonishing excellence and antiquated history of the country through our own visits. Our visits can expand long periods of mystical experience from the antiquated majestic city of Marrakesh to the social focus of Fes.