Fes to Marrakech distance 5 days Morocco trip Overview
In this Fes to Marrakech distance 5 days Morocco trip, we will travel through the Atlas Mountains to reach the Sahara, through palm forests to take in the lush surroundings, and local customs and culture. Look into the highlands of the Sahara, Explore the stunning canyons of Todra and DADES, the valleys, palm forests, and its incredible wild nature, as well as the local Berber, Jewish, and Bedouin cultures. Go on a camel trek. Stay in a luxury desert camp in Merzouga, Morocco. Spend the most recent day exploring the primary sights and green nurseries of the red city of Marrakech.
Price on Request of Fes to Marrakech distance 5 days Morocco trip:
>> The cost of the Fes to Marrakech distance 5 days Morocco trip depends on the number of travelers; the larger your group, the less expensive it will be per person.
>> All lodging will be private, and vehicles will only be shared, as necessary.
>> Personal injury or property loss is not our responsibility. You are always required to treat your possessions with reasonable care.
Itinerary of Fes to Marrakech distance 5 days Morocco trip:
Day 1: Fes -> Ifrane -> Midlet -> Erfoud -> Merzouga:
After breakfast on your Raid, get in your car and go to the Middle Atlas Mountains, leaving the bustle of the city behind. Travel through a range of beautiful scenery as you travel south and inland: verdant valleys and forests that contrast with a dry, stony landscape. Nomadic herders who travel the area to tend to their herds live there. Continue on to Midelt after passing through the cedar forests that are home to the Barbary ape, the only primate found in North Africa. Fes to Marrakech distance 5 days Morocco trip
Midelt is a market town in a valley that was formerly the mining hub for the area and is surrounded by farms and orchards. Get some exercise while exploring the surrounding village of Berrem and getting a close-up view of rural life. In Midelt, there is also an optional traditional music performance. Continue to Erg Chebbi, a vast desert, after lunch. There will be many opportunities to stop and soak in the views of the kasbahs and palm palms because you will be in the comfort of your van (valleys of palm trees, fields, and orchards). Fes to Marrakech distance 5 days Morocco trip
Throughout your adventure, you might also have the opportunity to come across nomads; these adventurous people were bred to roam freely under the open sky with their herds of animals, rarely settling down for long. Before arriving at the road's terminus in the little desert community of Merzouga, continue driving through the shifting scenery, passing via border towns like Erfoud as you pass through parched mountain sides and rich valleys. The lovely desert town of Merzouga is surrounded by the orange sand dunes of Erg Chebbi and exudes an unmistakable sense of seclusion, exactly as the modern world left it behind. Stay overnight at https://darhassan.com/ or simillar. Fes to Marrakech distance 5 days Morocco trip
Day 2: Experience the desert region and the journey of capture:
Get up early in the morning to take in the desert sunrise over the top of the sand dunes. Following these enthralling moments, you will return to the hotel on the camel and have breakfast and take a shower. A tour of the sand dunes in a 4×4 will follow, during which you can see the black volcanic rocks from the excavations, a Bedouin family living in a tent, the settlement of Khamlia, and enjoy Gnawa spiritual music. See the lake, which serves as a diet draw for pink flamingos and other seasonal fauna in the spring. After that, you'll stop at Al-Risani for lunch. Fes to Marrakech distance 5 days Morocco trip
The historical capital of Tafilalet was this quiet city, and thanks to its location, the intersection of the city's north and south once served as the vital location of the major convoy's center. Risani is still a significant regional economic hub, with a sizable market that is especially lovely on Tuesdays, Thursdays, and Sundays. In the past, it was seen that goats and leather traded skins. Fes to Marrakech distance 5 days Morocco trip
You will visit the irrigation system and take a stroll through an oasis at the base of the sand dunes after lunch. After returning to your hotel, take a leisurely shower, then pack a small bag with your essentials for a night in the desert and leave the rest of your gear there. Next we'll ride camels in Erg Chebbi's sand dunes. This is a wonderful chance to capture the sunset in magnificent photos. We trek up the sand dunes to the top once we get at the Center camel camp to rip off the sand and see the sunset. At Berber camp Merzouga overnight or simillar. Fes to Marrakech distance 5 days Morocco trip
Day 3: Merzouga -> Berber The Villages -> Todra Gorges -> Dades Valley:
You can reach Tinghir, a huge and stunning oasis that runs for 40 kilometers, by walking in the nearby dunes and enjoying a lovely sunrise over the desert while eating traditional meals. Palm trees, olive trees, almond trees, and numerous other sorts of crops are abundant throughout the valley. You'll have an incredible experience even if you just spend a short while strolling around the lush valley. Todgha Gorge, a 300-meter-deep cliff in the High Atlas Mountains and one of the wildest sceneries you can see, is situated north of Tinghir. The trail through Todgha Gorge follows the palm-lined right bank of the river. Fes to Marrakech distance 5 days Morocco trip
The most picturesque and narrowest part of the strait lies to the east. The tight fairway between the 985-foot-tall granite walls is only 65 feet wide and spans 110 yards. If you select full board, have lunch at a nearby restaurant close to the valley. You will depart for Ouarzazate from there. This signifies in the Berber language. The Castle of Mgouna and Wadi Skoura are crossed by a route of 1,000 kasbahs that leads to Ouarzazate, a very picturesque city. Take a quick tour of the city by panoramic route once you arrive in Ouarzazate. At https://darrihanadades.com/, there is dinner and lodging or simillar. Fes to Marrakech distance 5 days Morocco trip
Day 4: Dades Valley -> Rose Valley -> Ouarzazate -> Marrakech:
We begin our journey along the Boulevard of 1,000 Thousand Kasbahs after breakfast at the accommodation since there are enormous kasbahs on both sides of the road. Sadly, a large number of such ancient maintained homes are destroyed, albeit some of them have been rebuilt. We pass through Dades Valley and ascend a rough terrain trail to the rocky region, where there are many Berber towns and few outsiders who don't live in caves. Here, we will have the chance to visit one of these families and learn about their way of life and their primary activity, "Taking care of herds of goats and tweet." Fes to Marrakech distance 5 days Morocco trip
Before we get at the Skoura palm forest, the bright rose valley will captivate our attention. After dinner, we travel another 45 kilometers to Ouarzazate. At https://www.darchamaa.com/ overnight or simillar. Fes to Marrakech distance 5 days Morocco trip
Day 5:Half day of Marrakech sightseeing -> Transfer to Airport:
After visit transfer to Airport Marrakech. Ending sevices of Fes to Marrakech distance 5 days Morocco trip.
Important information
Fes to Marrakech distance 5 days Morocco trip

:
Included: Fes to Marrakech distance 5 days Morocco trip:

Pick up you from your accommodation in Fes
Private Transport by an A/C vehicle
Fuel included
Private English-Speaking driver throughout your Journey Fes to Marrakech distance 5 days Morocco trip:
Half-board accommodations in selected hotels or Raids (dinners and breakfasts are included)
You can stop everywhere to take photos
Camel Trekking & Night in Desert
Camel Per person
Drop off service at your accommodation in Marrakech
Excluded:

Fes to Marrakech distance 5 days Morocco trip:

Tips and gratuities
Lunches and Drinks
Air fare travel
Anything not mentioned in the program of Fes to Marrakech distance 5 days Morocco trip
NOTE: If the Fes to Marrakech distance 5 days Morocco trip does not match your needs, contact us. Depending on your timeframe and your intentions for staying, we may tailor your Moroccan trips. You are welcome to bring along your family, friends, and all of your associates. Simply let us know, and our team at Tours Into Morocco would be happy to answer any questions, arrange detailed visits, and advise you on the best times and locations. We can assist you whether or not you are thinking.
Good to know about Fes to Marrakech distance 5 days Morocco trip:
2 days trip Fes to Merzouga tour into Morocco:
Enjoy two days of excitement in the heart of southern Morocco by learning the best ways through the Fes desert. We can access the large slopes of the Merzouga desert via a trail… Read More.
3 days desert tour Morocco from Fes to Marrakech:
In Merzouga, explore the vast Erg Chebbi desert and take in its celestial landscapes. From Fes to Marrakech Picnic, on this 3-day tour of Morocco, you'll get a strange experience in the country's southern region… Read More.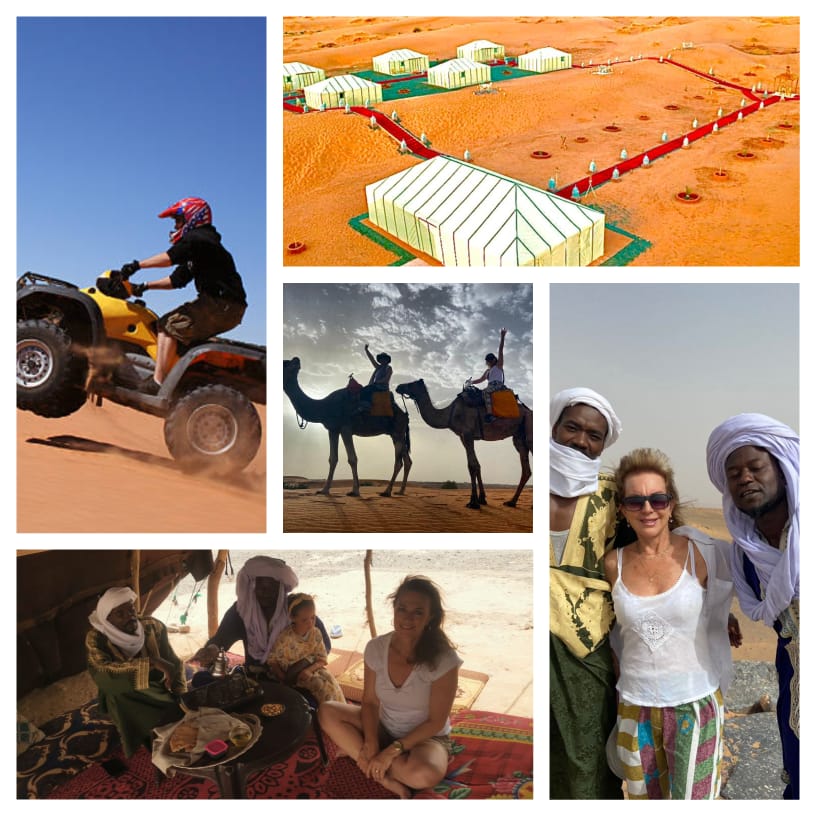 4 days Morocco desert trip from Fes to Marrakech:
The 4 day desert tour from Fes to Marrakech to the Merzouga desert through the center of the meeting point of the Atlas and the Moroccan Sahara offers the best beauty and chances. Discover desert cliffs and a hard way of life by taking a camel trip… Read More.
6 days trip from Fes via Merzouga to Marrakech:
These 6 days with Tours Into Morocco included travel from Fes to Marrakesh, across the desert to Merzouga, excursions through the Azrou of the Cedar Forest, Ifrane, Berber villages, Wadi Ziz, a lifetime camel ride in a desert camp under the stars, and exploration of the Toudgha Gorge and Ouarzazate valleys… Read More.
7 Days trip from Fes in Morocco to Marrakech:
Adventure Morocco's Berber heritage See Azrou of the Cedars forest, Ifrane, Berber settlements, Wadi Ziz, a lifetime camel ride in a desert camp beneath the stars, and two of Marrakech's most magnificent ancient urban areas during this 7 days trip  special desert and social tour from Fes that joins the Merzouga desert… Read More.
3 days Morocco desert trip from Fes to Merzouga:
This  Fes to Merzouga via desert tour 3 days will take you to the Merzouga Desert from Fes. You will encounter nature's exquisite wonders in Merzouga's vast Erg Chebbi desert. You will go on a mysterious journey across the southern Sahara of Morocco on this opulent small-group excursion from Fes to Merzouga… Read More.
Marrakech Desert tour in Morocco
Morocco tours from Tangier
Tours Morocco from Casablanca
Tours into Morocco from Rabat tours
Morocco Excursions in Morocco
Morocco Merzouga camel treks
Following a visit to the ridges, you can start unwinding in the traveling tents during this camel trekking and one night in Merzouga. Spend a day living in these tents as if you were a migrant. Appreciate the local music While our crew prepares a great traditional supper for you, you can enjoy your mint tea and the lovely nighttime setting over the sand hills. Try the delicious meals from the neighborhood… Read More.
The two-night camel trip program lets you experience the vast Merzouga desert's grandeur. You can get the chance to ride on the back of a camel, often known as a "boat of the desert." Camel trekking safaris in Merzouga are typically done in groups, with the guide leading the way and all camels moving in a line behind him. It's a visit to a nature safari that is strongly advised… Read More.
Merzouga three nights camel riding On the backs of camels, our 90-minute journey into the desert usually starts in the late evening. We load our camels with everything we will need from our hotel near the Merzouga ridges before we set out on our tour. We also travel towards a little desert spring while snapping photos and enjoying the trip across the colorful sand dunes… Read More.
To help you take advantage of this outstanding Moroccan destination, ToursIntoMorocco provides day trips and desert excursions that are painstakingly designed. By our personal travels, you will be able to see the astounding quality and ancient history of the nation. From the ancient, majestic city of Marrakesh to the cultural hub of Fes, our excursions might extend over extended periods of spiritual experience.