Overview 6 days trip from Marrakech
This 6 days trip from Marrakech to Merzouga and Chefchaouen; Investigating Tizi n'Tichka's most notable street pass Hollywood of Africa studio visits while touring the Unesco-listed kasbahs of Ait Benhaddou and Ouarzazate Look into Dades and Todgha Gorge. Merzouga camel ride in the Sahara desert and a campout while we look into the well-known royal urban areas In addition to Chefchaouen, the blue city, catch a hint of the ancient world at the Volubilis Roman monument, and travel to Meknes, the royal capital, and Rabat to see the magnificent doors, tombs, and vibrant souks.
Why you will love this trip desert 6 days trip from Marrakech
Itinerary of 6 days trip from Marrakech to Tangier Morocco desert:
Day 1: Marrakesh -> Atlas Mountains -> Ait Benhaddou -> Ouarzazate -> Dades Valley:
8:00 am: Raid breakfast and check-out Our 6-day journey from Marrakech to the Tangier desert in southern Morocco will continue. We travel past the magnificent Alto Atlas Mountains and the port of Tzi-N-Tichka, which serves as the entrance to a 2260 m-long desert. Here, we'll pause to reflect on the breathtaking vistas. The great wall will next be our next stop. It frequently acts as the setting for movies like and,… It is composed of numerous components; the pigsty and the dry dirt, which was once a fertile stream and is now a farm, appear to blend together. 6 days trip from Marrakech to Merzouga and Chefchaouen
Following a visit to the museum, we'll go on to Ouarzazate, a former French military outpost that's situated in the nation's meridian zone. It is recognized for its intricate palm trees, roses, and henna designs, and it has a thriving agricultural industry. Many film directors are making their debuts at this time. Due to these traits, the region has experienced significant economic expansion, giving rise to numerous businesses devoted to the field of hearing science as well as numerous jobs for locals. 

6 days trip from Marrakech to Merzouga and Chefchaouen
We continue on toward the Skoura palm forest, stopping at monuments honoring the 17th-century kasbah, and then we come to the startling and terrifying sight of the Dades gorges, which are formed by a collection of rock formations and craters. Come stay at the Dades Gorge hotel and spread out your rooms. 

6 days trip from Marrakech to Merzouga and Chefchaouen
Day 2: Dades Valley ->Todra Gogres -> Tinejdad -> Erfoud -> Merzouga:
After breakfast, get back in your minivan or 4×4 and go to neighboring Tinghir through the fabled "Road of 1000 Kasbahs." Go through the oasis to the impressive Todra Gorge, where a deep cleft in the orange limestone offers breathtaking views, and then have lunch at your leisure (on your own dime) in one of the neighborhood cafes. See the holy town of Rissani in the afternoon. Rissani is the ancestral home of Morocco's governing royal family and the Tafilalt area. Keep on until you reach Merzouga, a little settlement located on the Erg-Chebbi Sahara Desert's edge. 

6 days trip from Marrakech to Merzouga and Chefchaouen
From this point on, we travel farther into the desert on a camel journey before spending the night in a basic Nomad camp to enjoy some amazing stargazing. We can better understand the vastness of the Sahara Desert when we are surrounded by stillness and millions of stars. Please take note that as we will be traveling through the desert, you should only bring a bag for the night and leave the rest of your belongings in the car. Please prepare your overnight bag for today by packing it. 6 days trip from Marrakech to Merzouga and Chefchaouen
Day 3: Merzouga Desert -> Ziz valley -> Cedar Forest -> Ifrane -> Fes:
After a beautiful sunrise with a camp breakfast, you will leave the desert camel ride and head to Merzouga in the Atlas Mountains on the other side of Morocco. We crossed the green oasis and carved the beautiful Ziz Gorges gorges into the volcanic rock and passed through the Tizi Ntalghamt pass towards the Center around millions of palm trees and fortified villages with interesting southern architecture. We will stop for lunch in the town of Midelt, a sleepy village surrounded by the lush beauty of the Mid-Atlas Mountains, full of colorful minerals that break the mountain side with a ruby flame. Continue to the Central Atlas Mountains and vast forests of cedar trees, terraced farms and burnt brick Berber villages through Ifrane, an attractive ski resort, and Azrou is a major craft center specializing in working with cedar wood. Spend the whole night with dinner at the hotel or riad in Fez. 

6 days trip from Marrakech to Merzouga and Chefchaouen
Day 4: Fes touring accompanied by an official nearby guide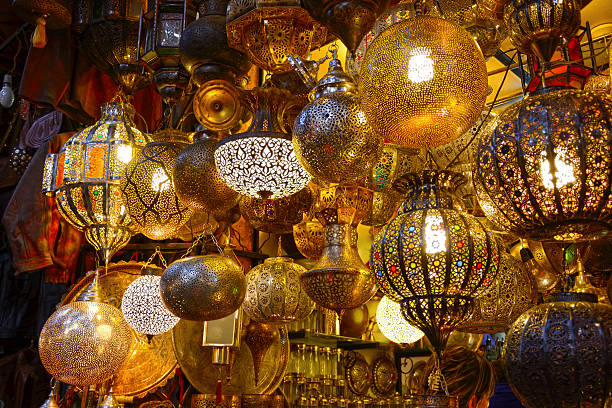 We will have a full day today to take in the artisan capital of Morocco with a local guide. After breakfast, we start sightseeing in Fes el Jadid, known as 'new Fes' despite dating back to the 13th century. The area's predominant feature is the Royal Palace, and although it's not open to visitors, we'll visit from the outside to see the intricately designed gates. We'll later drive out to North Borj viewpoint for some great views back across the city before taking a well deserved lunch break. 

6 days trip from Marrakech to Merzouga and Chefchaouen
After lunch, our exploration of the city takes us into Fes el Bali (Old Fes). Within the bustling souks of the Fes el Bali, the craftwork is considered to be the finest in Morocco. We'll wander through its artisan districts, where small doorways and narrow pathways reveal weavers and brass workshops, coppersmiths, and tanners, all producing beautiful pieces as they have for many generations. We'll also take in the opulent majesty of the 14th century Attarin Medersa, whose Moroccan decoration and elegant design makes it one of the city's most captivating medieval colleges. 6 days trip from Marrakech to Merzouga and Chefchaouen
Days 5: Fes-Meknes-Volubilis-Ouazane-Chefchaouen: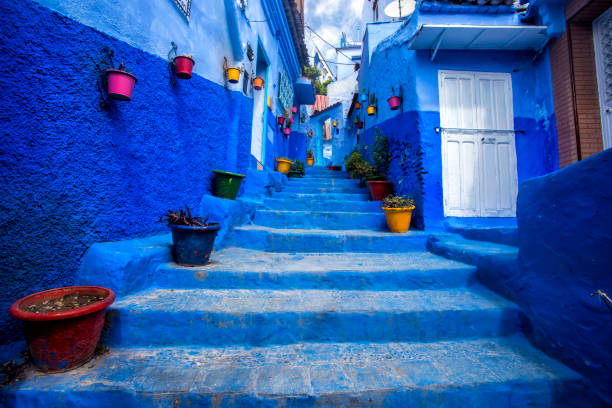 We leave Fez this morning for the short drive to the ancient Roman city of Volubilis. Recently listed as a UNESCO World Heritage Site and dating back as far as Volubilis is home to some of the most impressive Roman ruins in North Africa. We then head to the Berber town of Meknes. Formerly the capital of Morocco during the reign of Moulay Ismail, he transformed the town, constructing intricate gateways, beautiful gardens, and at 40m the largest ramparts in the country. Free time for lunch in Ouazzane. Your driver will stop on sees all-encompassing of Chefchaouen to take excellent pictures. Dinner and night in Chefchaouen. 

6 days trip from Marrakech to Merzouga and Chefchaouen
Day 6: Chefchaouen - Transfer to Port Tangier OR Airport:
Transfer to Airport or Port Tanger. Ending services of 6 days trip from Marrakech to Tangier and Merzouga, Chefchaouen.
Important Information 6 days trip from Marrakech to Merzouga and Chefchaouen
Pick up you from your accommodation in Marrakech
Private Transport by an A/C vehicle
Fuel included
Private English-Speaking driver throughout your Journey
Half-board accommodations in selected hotels or Raids (dinners and breakfasts are included)
You can stop everywhere to take photos
Camel Trekking & Night in Desert
Camel Per person
Drop off service at your accommodation in Tangier port
Tips and gratuities
Lunches and Drinks
Air fare travel
Anything not mentioned in the program
NOTE: 6 days trip from Marrakech to Tangier Morocco desert if doesn't coordinate what you're searching for, get in touch with us We can give tweaked to your tours in Morocco as indicated by your span and your inclinations of remain. You can accompany your family, family members, companions, every one of them. Simply let us know, Our Team in Tours Into Morocco is at your administration to respond to any inquiries, visits nitty-gritty, prompt about the best occasions and places. Regardless of whether you're pondering, we're here to help.
Trending tours from Marrakech to Morocco
Fes desert tours into Morocco
Popular Tours From Casablanca Into Morocco
Popular Tours From Tangier Into Morocco
Tours Into Morocco is a progressive travel agency that offers its clients a variety of tours and destinations to enjoy. With our travel services, you can go anywhere you want, from the landscapes of the High Atlas Mountains to the deepest Moroccan Sahara desert, to the imperial cities to discover everyday life and the real Morocco.