Overview of Fes to Marrakech 3 days desert tour:
Enjoy a 3 days tour from Fes to Marrakech of southern Morocco's action and play a constructive role in the pleasant wilderness. A 3 day desert route connecting Fes and Marrakech leads to the most significant ridges in Merzouga's Erg-Chebbi Sahara desert…
Before setting out on a lifetime journey to the Morocco desert tour on a camel and spending the night beneath the stars in the heart of the desert Merzouga trip, cross the Mid-Atlas Mountains, explore the Fes desert tour area, and the Tafilalet Oasis. Discover Moroccan history, culture, customs, traditions, and more while exploring the mystifying beautiful Kasbahs.
Look inside Ait Benhaddou Kasbah, which has served as the backdrop for a number of Hollywood productions, including Lawrence of Arabia, Gladiator, Prince of Persia, and Kingdom of Heaven.
Then, we continue along the edge of the Atlas Mountains to the well-known city of Marrakech tour, which is also bustling with other historic monuments and lovely gardens to discover Morocco's fantastic vacation.
Itinerary of 3 days tour from Fes to Marrakech via Erg Chebbi desert:
Day 1: Fes -> Ifrane -> Erfoud -> Merzouga desert:
We will stop at a number of locations on the first day of our Fes to Marrakech desert tour before entering the desert. However, the most important thing is that we will take you to Imouzar when we meet you at Raid. After that, we can pause for breakfast before heading to Ifrane. We'll stop there briefly to see the map book lion's resolution. In the end, a German prisoner who wanted to break free from the French worked on the sculpture. Next, we'll travel to the Cedar Woods, where we'll make a stop to see the monkeys—one of the creatures on the left in the map book. We will then travel through the Ait Pass after that. 3 days tour from Fes to Marrakech
We'll cross the Tlghomt pass to continue our trip after lunch. In conclusion, the female camel. From that point on, we will come to a complete viewpoint of the Errachidia Dam, where the government stores water for the desert. The highest point of the Ziz Valley, the largest source of dates in the Sahara Desert, will be our next stop. After that, we'll drive via Erfoud, where dates are celebrated all over the world. Additionally, Erfoud is well known for exporting mineral fossils to Phoenix, Arizona. 3 days tour from Fes to Marrakech
Finally, after a challenging day from Fes, we'll arrive to Merzouga desert. Prior to that, we will pause to get a comprehensive view of the Erg Chebbi highlands. We will then transport you on the camels over those hills at that point. Depending on when we arrived at our luxurious Berber desert camp, we could be able to view the nightfall on the ridges. You can join our group of Berbers there as they perform music after setting fire. Then, it is advised to ascend the rises to observe the beauty of the stars and the easy way.3 days tour from Fes to Marrakech
Day 2: Merzouga -> Berber Vilages -> Todra Gorges -> Dades Valley:
When the sun rises over the Erg Chebbi desert, you will have to get up early to climb the sand edges. The sands are continuously shifting, but your skilled drivers are aware of the contours and slopes present, and they will lead you to a spectacular vantage point where you can take in the dawn. The sun will rise over the tan desert while you watch, and shortly after, your tent will be visited again for a hearty breakfast. 3 days tour from Fes to Marrakech
After that, after leaving the desert, you will start traveling in the direction of Rissani, a famous city from the seventeenth century that gained prominence before the Alawite line seized power. The fascinating tale of the former Abbar Palace's disgraced Alawi family residents who were forced to relocate here and essentially abandoned, in keeping with the city, can be found on the surrounding remnants of the palace. 3 days tour from Fes to Marrakech
Although not very extensive in terms of distance or length, this section of our trip from Fes to Marrakech is one of the most important drives you will ever do as we make our way through the breathtaking Todra Gorge. You will go to the DADES River Valley after a late-morning stop at a mind-boggling restaurant at the base of the gorges, where forests and cities feature dry inclines and desert rock formations. 3 days tour from Fes to Marrakech
The magnificent 1000 Kasbah Road is the next stop on your tour. This three-day desert excursion from Fes Merzouga, which follows the old parade route, emphasizes stunning gorges and valleys, supported old villages and edge castles, and, startlingly, some nineteenth-century tall structures combined with particular archaic kasbah partitions. You will partake in an exclusive dinner and a tranquil moment this evening at Riad, a charming Riad-style home on the edge of the Moroccan desert. 3 days tour from Fes to Marrakech
Day 3: Dades Valley -> Rose Valley -> Skoura -> Ait-Ben Haddou -> Marrakech:
These days, as another noteworthy day begins, you may go via the Dades Valley, also known as the route of the kasbahs, which stretches 160 kilometers from Tinghir to Ouarzazate. You'll stop in kalaa m'gouna, often known as "the rose city," which is famous for its annual rose competition. Continue on to skoura and the valley of the flying beast, where the mud-block kasbahs—particularly the kasbah Ameridil, which is here inside and out preserved—have the leading roles, and you can continue on your journey to Ouarzazate. Taourirt Kasbah Walking Tour will be your next visit. 3 days tour from Fes to Marrakech
The foundation of the 19th century for one of the most magnificent tribes in the area, its excellent engineering reflects the wealth that the founding galaoui family had accumulated by its control of an essential procession transport corridor between Morocco with west africa. The Tifultot kasbah is the next stop. Even if they are a little beyond of what is typically expected, the ridge ruins provide important insight into the relationship between typical Moroccan design and day-to-day existence. 3 days tour from Fes to Marrakech
Continue on to Ait ben Haddou, which can be found at some point in southern Morocco trip and is widely regarded as an incredibly lovely citadel revitalized town, according to an unesco worldwide history page online. You will be astounded by the well-organized collection of structures within the earthen partitions, which are dotted with doorways and pinnacles. Some of the constructions are really simple, while others like tiny fortified castles that they built on their own. You can recognize Ait benhaddou Kasbah from a number of fantastic movies, like Lawrence of Arabia Gladiator, with its army of red-earth dwellings moving from the arid valley floor and up the perilous slope. 3 days tour from Fes to Marrakech
You might leave the motionless, bone-dry pre-desert scenery behind and climb the southeast inclines of the high atlas mountains after taking part in the outside with vistas on Ait ben haddou. Before continuing on a towering avenue built by the French in 1936 as a tactical interstate, you'll enjoy shocking views of the mountain scene when you cross the 7,400-foot Tizi-n Tchka pass. When you get in Marrakech, you'll sign up for the best riad. End 3 days tour from Fes to Marrakech
Gallery of Fes to Marrakech and Merzouga desert 3 days trip
information 3 days tour from Fes to Marrakech, Morocco
Included: in this 3 days tour from Fes to Marrakech
_ Pick up you from your accommodation in Casablanca
_ Private Transport by an A/C vehicle
_ Fuel included
_ Private English-Speaking driver throughout. 3 days tour from Fes to Marrakech
_ Half-board accommodations in selected hotels or Raids (dinners and breakfasts are included)
_ You can stop everywhere to take photos
_ Drop off service at your accommodation in Casablanca
Excluded: 13 days tour from Fes to Marrakech:
_ Lunches and Drinks
_ Airfare travel
_ Anything not mentioned in the program 

3 days tour from Fes to Marrakech
Note: 3 days tour from Fes to Marrakech; Get in touch with us if you can't find what you're looking for. You are welcome to bring along your entire family, extended relatives, and friends. Please let us know if you have any questions, and our staff at Tours Into Morocco will be happy to answer them, provide tour information, and recommend the best events and venues. Whatever you may be thinking, we are here to support you.
Note  of 3 days tour from Fes to Erg Chebbi desert ending in Marrakech, Morocco:
_ All lodging will be private on this 3 days Fes desert tour to Marrakech tripadvisor, and vehicles will only be shared on this Fes Group desert tour, if applicable. 
_ The cost of this Fes to Marrakech desert tour 3 days will depend on the number of people in your party.
_ With regard to this tour through the Fes desert to Marrakech, we disclaim any liability for physical injury or loss of your goods. You are always required to treat your possessions with reasonable care.
Most popular Desert tours in Morocco from fes:
2 days trip Fes to Merzouga tour into Morocco:
Enjoy two days of excitement in the heart of southern Morocco by learning the best ways through the Fes desert. We can access the large slopes of the Merzouga desert via a trail… Read More.
3 days desert tour Morocco from Fes to Marrakech:
In Merzouga, explore the vast Erg Chebbi desert and take in its celestial landscapes. From Fes to Marrakech Picnic, on this 3-day tour of Morocco, you'll get a strange experience in the country's southern region… Read More.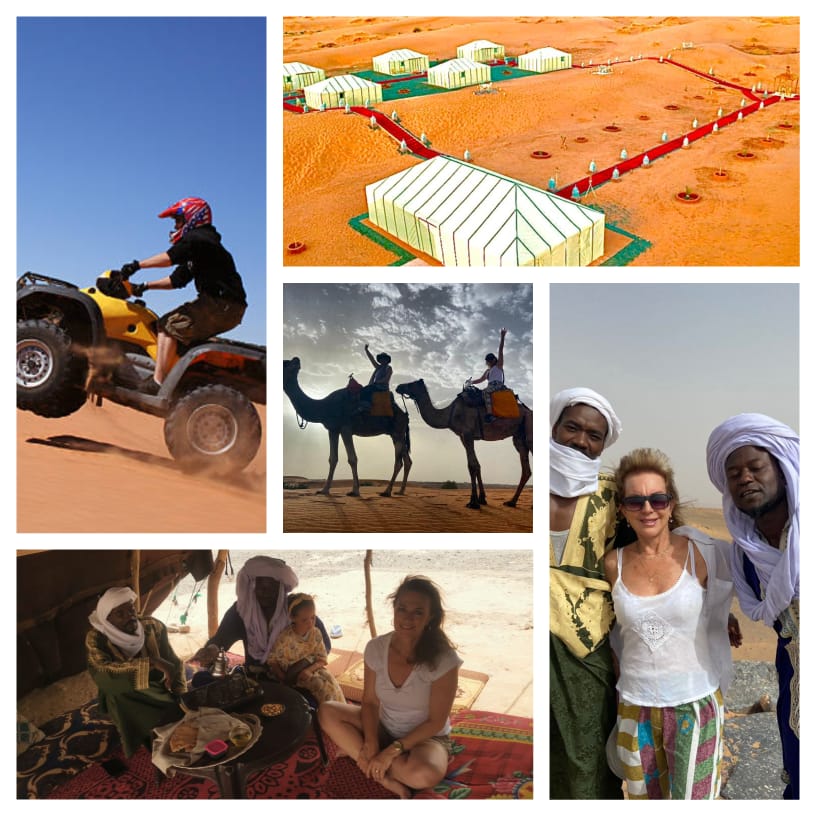 4 days Morocco desert trip from Fes to Marrakech:
The 4 day desert tour from Fes to Marrakech to the Merzouga desert through the center of the meeting point of the Atlas and the Moroccan Sahara offers the best beauty and chances. Discover desert cliffs and a hard way of life by taking a camel trip… Read More.
6 days trip from Fes via Merzouga to Marrakech:
These 6 days with Tours Into Morocco included travel from Fes to Marrakesh, across the desert to Merzouga, excursions through the Azrou of the Cedar Forest, Ifrane, Berber villages, Wadi Ziz, a lifetime camel ride in a desert camp under the stars, and exploration of the Toudgha Gorge and Ouarzazate valleys… Read More.
7 Days trip from Fes in Morocco to Marrakech:
Adventure Morocco's Berber heritage See Azrou of the Cedars forest, Ifrane, Berber settlements, Wadi Ziz, a lifetime camel ride in a desert camp beneath the stars, and two of Marrakech's most magnificent ancient urban areas during this 7 days trip  special desert and social tour from Fes that joins the Merzouga desert… Read More.
3 days Morocco desert trip from Fes to Merzouga:
This  Fes to Merzouga via desert tour 3 days will take you to the Merzouga Desert from Fes. You will encounter nature's exquisite wonders in Merzouga's vast Erg Chebbi desert. You will go on a mysterious journey across the southern Sahara of Morocco on this opulent small-group excursion from Fes to Merzouga… Read More.
Similar tours into Morocco
Marrakech Desert tour in Morocco
Morocco tours from Tangier
Tours Morocco from Casablanca
Alo, you may like this popular Desert tours in Morocco:
Tours into Morocco from Rabat tours
Morocco Excursions in Morocco
Morocco Merzouga camel treks
Following a visit to the ridges, you can start unwinding in the traveling tents during this camel trekking and one night in Merzouga. Spend a day living in these tents as if you were a migrant. Appreciate the local music While our crew prepares a great traditional supper for you, you can enjoy your mint tea and the lovely nighttime setting over the sand hills. Try the delicious meals from the neighborhood… Read More.
The two-night camel trip program lets you experience the vast Merzouga desert's grandeur. You can get the chance to ride on the back of a camel, often known as a "boat of the desert." Camel trekking safaris in Merzouga are typically done in groups, with the guide leading the way and all camels moving in a line behind him. It's a visit to a nature safari that is strongly advised… Read More.
Merzouga three nights camel riding On the backs of camels, our 90-minute journey into the desert usually starts in the late evening. We load our camels with everything we will need from our hotel near the Merzouga ridges before we set out on our tour. We also travel towards a little desert spring while snapping photos and enjoying the trip across the colorful sand dunes… Read More.
To help you take advantage of this outstanding Moroccan destination, ToursIntoMorocco provides day trips and desert excursions that are painstakingly designed. By our personal travels, you will be able to see the astounding quality and ancient history of the nation. From the ancient, majestic city of Marrakesh to the cultural hub of Fes, our excursions might extend over extended periods of spiritual experience.