Overview of Fes to Marrakech tour 8 days desert Morocco:
You will start from Fez and proceed toward Ifrane on Fes to Marrakech tour 8 days desert Morocco. In order to see the monkeys, we will then move toward the cedar forests. In order to reach Ifrane and Azrou, it then continued south through the Middle Atlas Mountains. Take a camel ride in the Erg Chebbi desert during the evening hours, try ATV riding, spend some time in a luxurious rose camp, or travel like a regular transient. Camp in the Merzouga desert, explore the Todra valley with a nearby friend or take a quick trip inside the Todra chasm, where rock-moving is a popular activity, as well as traversing uncharted territory through the Valley of Roses, Skoura Palm-woods, Ouarzazate, Ait Benhaddou Kasbahs, Telouet, and across the Atlas Mountains.
Price on Request of Fes to Marrakech tour 8 days desert Morocco:
>> The price of Fes to Marrakech tour 8 days desert Morocco will depend on the numbers, the more people in your party the lower the cost per person.
>> All accommodations will be private, and vehicles will only be shared, if applicable.
>> We are not responsible for personal injury or loss of your property. You must take reasonable care of your belongings at all times.
Itinerary of Fes to Marrakech tour 8 days desert Morocco:
Day 1: Fes -> Imouzzer -> Ifrane -> Mashlifane -> Zaida -> Midlet :
Take off from Fes at 8:00 tickers after breakfast in your riad, through Imouzzer. Astonishing and unheard of in Morocco are the slanting housetops of Kandar, a town in the Sefrou Province, Fes-Meknes, and Ifrane. This is done to control the annual snowfall. Barbary monkeys can be seen in the Middle Atlas oak and cedar forests at Azrou, which is 1,250 meters away, and whose geomorphological term in Berber means "stone" or "rock." From here, we travel south along the N13 over the Middle Atlas, passing via Timahdite, a Berber name that denotes a female because it begins with a letter and ends with one. Fes to Marrakech tour 8 days desert Morocco
Break time for LunchFes to Marrakech tour 8 days desert Morocco
We reach Midelt, 1508M, which is known as Morocco's "apple capital" and is located at the base of the Ayachi Mountain. The Eastern High Atlas in central Morocco is anchored by Jbel Ayachi, which is arguably the highest mountain in North Africa. Jbel Ayachi rises to 3,757 meters above sea level. The hairy vulture has a natural habitat in this mountainous area. Fes to Marrakech tour 8 days desert Morocco
The city serves as a commercial and farming hub for the surrounding region. It is also one of the main mining hubs in Morocco, producing minerals such fluorite, vanadinite, quartz, and pirouette. Before showing up after the scheduled time for Middlt for a brief period in a hotel. 

Fes to Marrakech tour 8 days desert Morocco
Day 2: Midlet -> Errachidia -> Valley Ziz -> Aoufous -> Erfoud -> Merzouga:
Moving forward to Merzouga today, past Errachidia, and the palm-tree-dotted Ziz valley, which serves as the focal point for the annual date festival in Erfoud, you come upon a wholly unexpected side of this nation. Here, in Merzouga, the Saharan slope field closest to Europe, you can sit and observe this desolate radiance and stroll around one of the ascents. Fes to Marrakech tour 8 days desert Morocco
The departure point for your Sahara desert immersion is nearby Erfoud, from where we embark on a nighttime excursion to Merzouga on the edge of the Sahara. Amid the immense calm, we watch the sun set over the desert as we ride a camel along the slopes to experience a remarkable ride in accordance with the Bedouine way of life. You may travel amid sand rises and breathtaking vistas with the aid of the "desert ship." A charming directed visit and the joy of a lavish sky will come after it. Fes to Marrakech tour 8 days desert Morocco
By that time, a camp would be constructed around a fire. You could sense the value in a typical Bedouin coffee shop. Comfort will be provided in a traveler tent under the countless stars of the unmistakable desert sky, and caution will be provided when the sun rises so you may observe the desert's various shades change in front of your eyes. brief stay at the Wanderer Camp. Fes to Marrakech tour 8 days desert Morocco
Day 3: Desert Zone Experience & GRABBER TREK:
You will start your day of exploration of the deserted area and the Tafilalet palm trees after breakfast at your camp with an educational trip to the neighborhood aqueducts (Khettaras), a cutting-edge irrigation system that remotely covers the land's subsurface around the oasis's water and supplies. Continue along the path past Merzouga to the settlement of Khamila, where the majority of the locals are black because they were originally taken there as slaves from sub-Saharan Africa. They are glad to perform for visitors and are recognized for their Gnawa music, which features castagnets and drums. Fes to Marrakech tour 8 days desert Morocco
You have the chance to explore the Souk, which is divided into sections including dates, herbs, vegetables, and more, if our day adventure coincides with the customary weekly market that typically takes place in Rissani. We'll head to the hotel in the late afternoon. Hotel accommodations for the night. Fes to Marrakech tour 8 days desert Morocco
Day 4: Merzouga -> Berber Villages -> Todra Gorges -> Dades Valley:
If you get up early enough, you may ascend the sand dunes once again to see the sun rise over the desert. The dunes will lead us to a magnificent vantage point to see the dawn, and they are always changing. Then, after witnessing the sun's first golden rays touch the tan desert dunes, you'll head back to your accommodation for a filling breakfast. After passing through Erfoud City, the world's foremost producer of marble fossils, on the way to Tinjdad or Todra Gorge, where you will eat lunch, Later, when we go down the Todra Valley's road, you will have to climb or walk through this breathtaking area while taking in the sights of its tall granite walls (up to 309 meters)(up to 309 meters) Afterwards we head to Boumalene Dades where you will have time to explore Dades Gorges, overnight stay in traditional Kasbah. Fes to Marrakech tour 8 days desert Morocco
Day 5: Dades Valley -> Ouarzazate -> Ait-Ben Haddou -> Marrakech:
After breakfast, we will go through The Dades Valley, generally called a Road of 1000 Kasbahs stretches out 160 km from Ouarzazate to Marrakech tour. We'll stop at Kalaa Mgouna, "the rose city" praised with its yearly festival of roses. Continuing to Skoura and the padded animal's valley where the essential features are the mud-block Kasbahs especially the Kasbah Ameridil, a particularly saved Kasbah around there. The visit continues to Ouarzazate, "the Hollywood of Africa", whose geology and brilliant scenes have pulled in various a-list producers. You will track down the chance to see Kasbah Taourirt with a Hollywood foundation (Sheltering Sky, Gladiator, and Prince of Persia). Fes to Marrakech tour 8 days desert Morocco
Some time later, we'll hop the UNESCO got Ait Ben Haddou Kasbah, one of the most incredible Kasbahs around there.The Kasbah has heavenly points of view on the enveloping palms, prior to going to Marrakech through the Tizi N'Tichka pass. we'll stop to visit the town of Telouet and its out of date seventeenth-century Kasbah. We will continue to explore the Tizi N'Tichka road especially its uncommon scene of Berber's towns to Marrakech. Fes to Marrakech tour 8 days desert Morocco
Day 6: Marrakech sightseeing guided by an official local guide:
You will take part in a morning guided tour of Marrakech, "the Red City of Morocco," after breakfast. Your guide will make sure you visit every landmark with confidence and social enthusiasm, including the Ben Youssef Koranic School, the Saadian entombment sites, the magnificent Palace of Bahia, and the Koutoubia Minaret. Finish the morning by taking a stroll through the rear entrances of the medina, where you'll get the opportunity to see a variety of specialists staking out their claims to fame before making an appearance in the famed Jamaa El Fna Plaza. Lunch at a café in the plaza, followed by a visit to the Majorelle Gardens and a quick stop in Gueliz, Marrakech's new city, in the evening. Following supper, you will have the choice to stroll through the square engaged by entertainers, narrators, tooth-pullers, and food merchants. Night in the same Raid. Fes to Marrakech tour 8 days desert Morocco
Day 7: Marrakech -> Essaouira:
After breakfast, It will take us three hours to go from Marrakech to Essaouira before we start our trip in the morning. You'll see the historical center for woodwork artworks that is housed in an old royal mansion. The medina's narrow streets display many expert artisans working with jewels and wood. These people are introduced under the city's bastions. You'll dine and the dinner will be served there after a little stroll through Essaouira's charming back entrances. Fes to Marrakech tour 8 days desert Morocco
Day 8 :Marrakech -> Transfer to Airport:
Transfer to the airport for your departure flight. End Services of Fes to Marrakech tour 8 days desert Morocco.
Important info of 8 days tour from Fes to Marrakech via Merzouga desert:
Pick up you from your accommodation in Fes
Private Transport by an A/C vehicle
Fuel included
Private English-Speaking driver throughout your

Fes to Marrakech tour 8 days desert Morocco

Half-board accommodations in selected hotels or Raids (dinners and breakfasts are included)
  accommodation in Marrakech
You can stop everywhere to take photos
Camel Trekking & Night in Desert
Camel Per person
Drop off service at your
 
Tips and gratuities
Lunches and Drinks
Air fare travel
Anything not mentioned in the program
NOTE: of Fes to Marrakech tour 8 days desert Morocco if doesn't coordinate what you're searching for, get in touch with us We can give tweaked to your tours in Morocco as indicated by your span and your inclinations of remain. You can accompany your family, family members, companions, every one of them. Simply let us know, Our Team in Tours Into Morocco is at your administration to respond to any inquiries, visits nitty-gritty, prompt about the best occasions and places. Regardless of whether you're pondering, we're here to help.
2 days trip Fes to Merzouga tour into Morocco:
Enjoy two days of excitement in the heart of southern Morocco by learning the best ways through the Fes desert. We can access the large slopes of the Merzouga desert via a trail… Read More.
3 days desert tour Morocco from Fes to Marrakech:
In Merzouga, explore the vast Erg Chebbi desert and take in its celestial landscapes. From Fes to Marrakech Picnic, on this 3-day tour of Morocco, you'll get a strange experience in the country's southern region… Read More.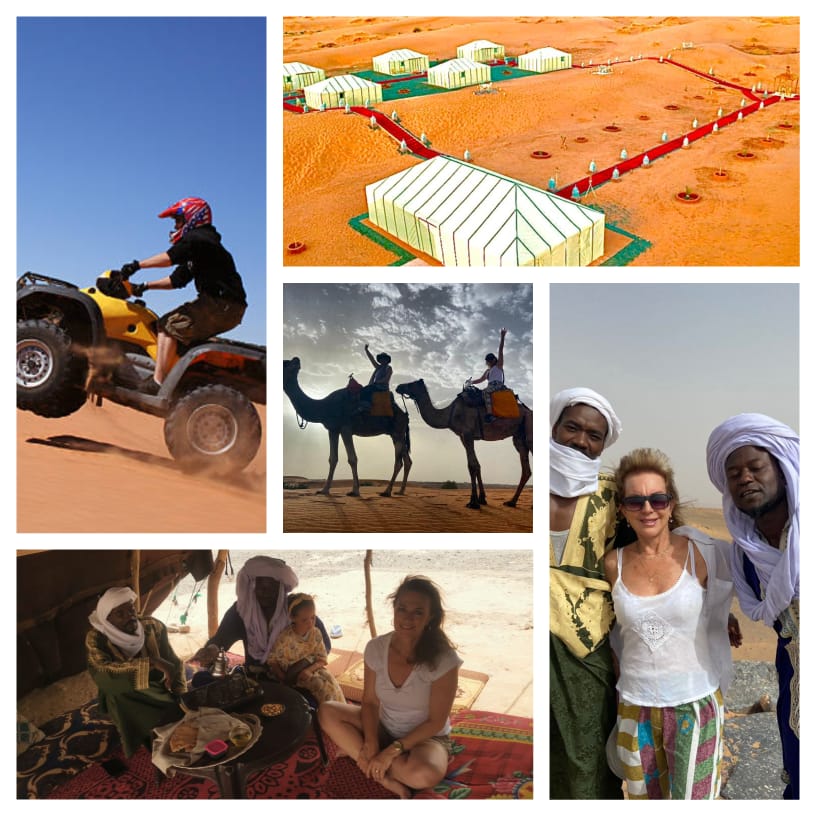 4 days Morocco desert trip from Fes to Marrakech:
The 4 day desert tour from Fes to Marrakech to the Merzouga desert through the center of the meeting point of the Atlas and the Moroccan Sahara offers the best beauty and chances. Discover desert cliffs and a hard way of life by taking a camel trip… Read More.
6 days trip from Fes via Merzouga to Marrakech:
These 6 days with Tours Into Morocco included travel from Fes to Marrakesh, across the desert to Merzouga, excursions through the Azrou of the Cedar Forest, Ifrane, Berber villages, Wadi Ziz, a lifetime camel ride in a desert camp under the stars, and exploration of the Toudgha Gorge and Ouarzazate valleys… Read More.
7 Days trip from Fes in Morocco to Marrakech:
Adventure Morocco's Berber heritage See Azrou of the Cedars forest, Ifrane, Berber settlements, Wadi Ziz, a lifetime camel ride in a desert camp beneath the stars, and two of Marrakech's most magnificent ancient urban areas during this 7 days trip  special desert and social tour from Fes that joins the Merzouga desert… Read More.
3 days Morocco desert trip from Fes to Merzouga:
This  Fes to Merzouga via desert tour 3 days will take you to the Merzouga Desert from Fes. You will encounter nature's exquisite wonders in Merzouga's vast Erg Chebbi desert. You will go on a mysterious journey across the southern Sahara of Morocco on this opulent small-group excursion from Fes to Merzouga… Read More.
Marrakech Desert tour in Morocco
Morocco tours from Tangier
Tours Morocco from Casablanca
Tours into Morocco from Rabat tours
Morocco Excursions in Morocco
Morocco Merzouga camel treks
Following a visit to the ridges, you can start unwinding in the traveling tents during this camel trekking and one night in Merzouga. Spend a day living in these tents as if you were a migrant. Appreciate the local music While our crew prepares a great traditional supper for you, you can enjoy your mint tea and the lovely nighttime setting over the sand hills. Try the delicious meals from the neighborhood… Read More.
The two-night camel trip program lets you experience the vast Merzouga desert's grandeur. You can get the chance to ride on the back of a camel, often known as a "boat of the desert." Camel trekking safaris in Merzouga are typically done in groups, with the guide leading the way and all camels moving in a line behind him. It's a visit to a nature safari that is strongly advised… Read More.
Merzouga three nights camel riding On the backs of camels, our 90-minute journey into the desert usually starts in the late evening. We load our camels with everything we will need from our hotel near the Merzouga ridges before we set out on our tour. We also travel towards a little desert spring while snapping photos and enjoying the trip across the colorful sand dunes… Read More.
To help you take advantage of this outstanding Moroccan destination, ToursIntoMorocco provides day trips and desert excursions that are painstakingly designed. By our personal travels, you will be able to see the astounding quality and ancient history of the nation. From the ancient, majestic city of Marrakesh to the cultural hub of Fes, our excursions might extend over extended periods of spiritual experience.