Morocco ATV quad bike Merzouga tour
A fleet of potent ATV / Moto quads is available for rent from Tours Into Morocco. 4DayMoroccoTour du Sud gives you a quad riding trip in the Merzouga desert so that you can experience the desert even more intimately and so that you can be completely in control of your travel. Feel the rush of adrenaline while taking a safe desert track or dunes excursion.
An accompanied guide will take you to the most amazing locations as you explore the Moroccan desert. Discover a distinctive setting as you explore the dunes and nearby desert paths. It's easy and practical to rent a quad at our hotel. A day of quad in Merzouga is what we recommend for a wonderful vacation in the Moroccan desert.
Morocco ATV quad bike Merzouga tours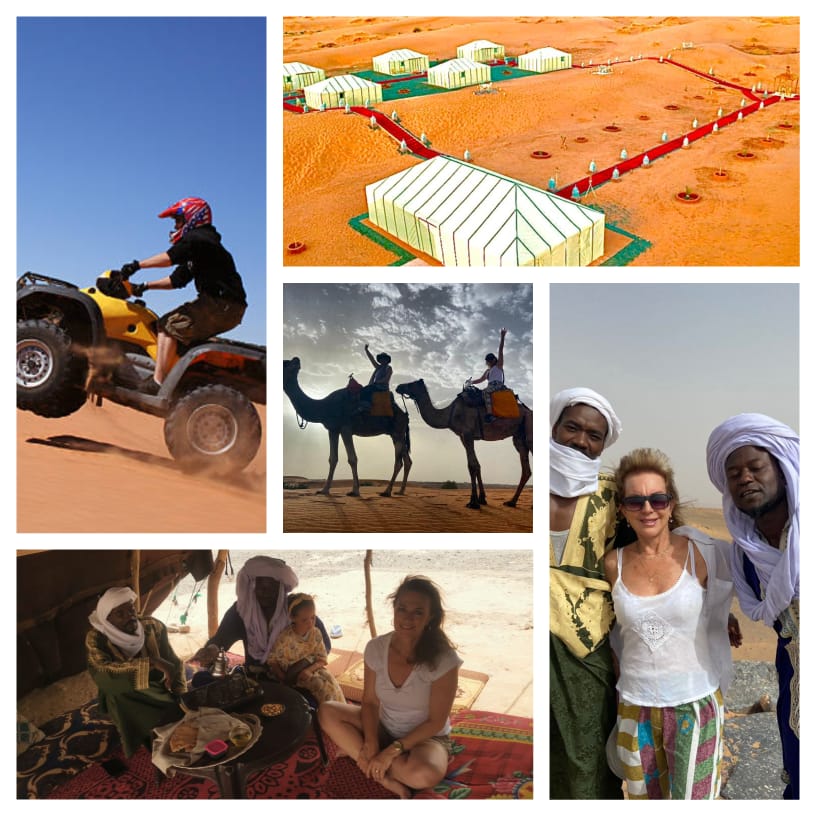 1-hour tour
Our hotel / Office will be the starting point for a one-hour quad bike Erg Chebbi Merzouga adventure through the Erg Chebbi dunes.
1-1/2-hour outing
Leaving from our accommodation, a 2-hour quad bike adventure into the Erg Chebbi dunes in Merzouga and neighboring paths.
A tour lasting half a day
Departing from our accommodation, a half-day quad trip of Erg Chebbi's dunes and neighboring paths. Also, stop by a couple surrounding settlements and, if possible, have tea with some of the nearby nomads.
Question and Answer Sheets
Which ATV tours into the Moroccan Sahara are the best?

A:According to visitors on Viator, the top ATV tours in Morocco's Sahara are:
>> Camels and an overnight stay in Merzouga's Desert Camp
>> Merzouga Adventure Tour for one hour
>> Camping in the desert for the night and camel riding
>> Guided Quad Tour to Fint Oasis for Half a Day

What Moroccan Sahara ATV tours go no longer than an hour?

A: One-hour or shorter ATV tours in the Moroccan Sahara are as follows:
>> Erg Chebbi's Merzouga Dunes Desert Quad Biking
>> Merzouga Off Roading Experience: Nature & Wildlife: 1 Hour Quad in the Sahara
>> Riding a quad through sand dunes Merzouga Desert of Erg Chebbi
>> Guided quad tour of Ait Ben Haddou for one hour
>> A 1-Hour Quad Ride Across the Merzouga Dunes in the Sahara
Which ATV Tours into the Moroccan Sahara Desert are implementing additional safety measures?

>> A night in a desert camp and camel riding
>> Camel Trekking in Merzouga for One Night
>> An Hour-Long Quad Ride Through the Merzouga Sand Dunes in the Sahara
>> From Merzouga, a Sahara ATV Quad Adventures Safari lasts one hour.
>> In the Merzouga Desert, camel trekking with a private luxury tent is available.

What Sahara ATV Tours into Morocco are recommended for avoiding crowds?

These undiscovered attractions in Morocco's Sahara region could not interact much with tourists:

>> One-hour Merzouga Adventure Tour
>> Fint Oasis Half-Day Guided Quad Tour
>> Tour Guide Rissani
>> Camel rides and overnight stays in Berber camps in the Merzouga Desert…
Most Popular Tours From Marrakech to Morocco
Tours From Fes Into Morocco
Most Popular Tours From Casablanca Into Morocco
Most Popular Tours From Tangier Into Morocco
To help you take advantage of this outstanding Moroccan destination, Tours Into Morocco provides day trips and desert excursions that are painstakingly designed. By our personal travels, you will be able to see the astounding quality and ancient history of the nation. From the ancient, majestic city of Marrakesh to the cultural hub of Fes, our excursions might extend over extended periods of spiritual experience.